Post by shiftyferret on Aug 4, 2012 16:03:10 GMT -5
Hello all!
I'd like to thank every one for their warm welcome to Holistic Ferret Forum. I've been a browser for a few years now, and felt it's certainly time I joined.
To celebrate that, and my start in offering pet portraits and other critter-art on stones, I'd like to open up three spots for Holistic Ferret Forum members for pet portraits of your beloved little fuzzies(or scalies... or feather...uh..ies). OR 'generic' animal art.
For these three spots, I'm going to offer to pay the shipping and handling to any where within the US(Outside US members, feel free to IM me and I'll find out how much it will cost and offer you an equivalent discount).
Custom Pet Portrait
These will run $15, and will be *your* pet.
I'll require reference pictures, the more clear the better.
For now, head shots or 'busts' are only available.
These are a perfect size for adding to small urns for those that have passed, or simply to keep tucked near by when you want a reminder of your little loves!
Examples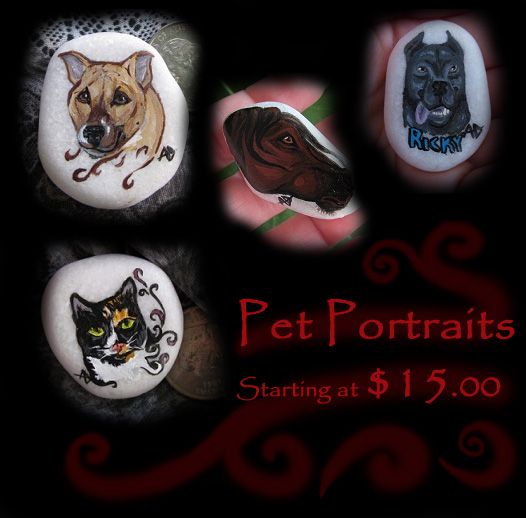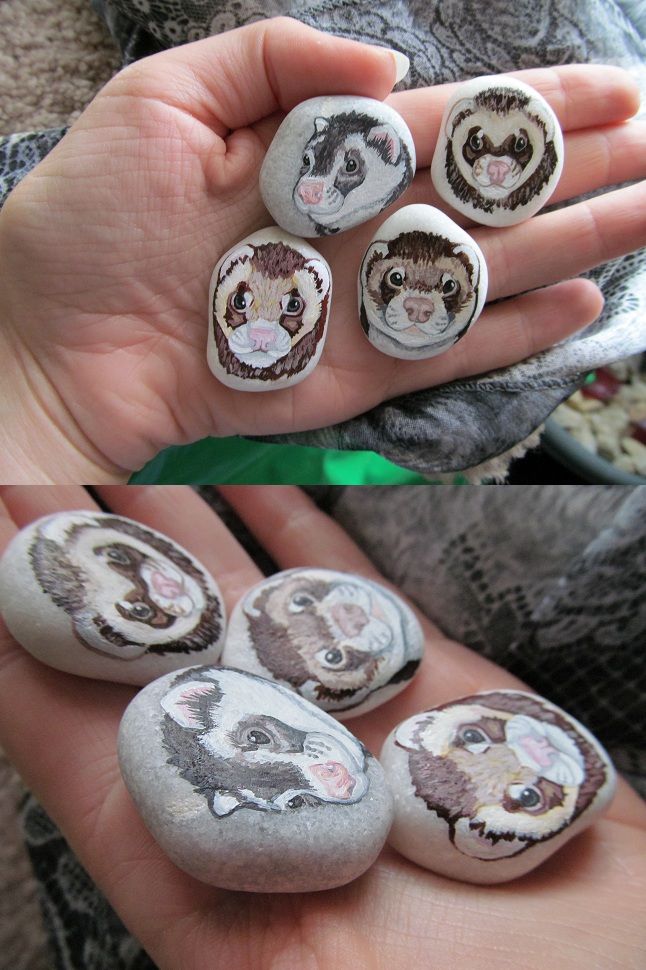 (As promised, Darlene's wonderful four!)
Animal Artwork
These will start at $10, only going up if there is incredible amount of detail required/multiple animals/detailed backgrounds.
This could be anything you can think up... Stylized? Tribal? These can be head shots or full body.. or even a partial body. Want something close to a ferret(or any critter, really) of yours, but funds are a little tight? That's fine, just tell me what color ferret you'd like... Say sable or silver mitt or DEW - Just keep in mind these will be lighter in detail than an actual pet portrait.
Examples
... Just to give a few ideas.
Don't be afraid to add details... Like... the Pirate Red Panda!
Drooling yet? I hope so! All of these are on small smooth flat little tile pebbles and sprayed with an acrylic sealer. They are not meant for rough handling and could be scratched if mistreated(like carried around in a pocket!). If you desire is to port them about in your pants, I'd recommend giving them a stronger coat of sealer or protection.
Though I wear one as a necklace and though many outings it remains fine.
***Not something I would recommend for small children, as these could easily be a choking hazard***
....Did you say necklace? Yes, eventually I'll be offering these guys as pendants with colored copper wire wrap. If you're the impatient type and want a portrait you can wear
now
please add $5.
Care to be my guinea pigs?
To request, please send me a message specifying what you'd like. I am going to work through paypal and I'll take the first three who pay up front.
(I will make every strive that the finished product is to your liking!)
Available Slots


1) freyamarie - Daisy Portrait - Finished!

2) sheila - Ricky Portrait - Finished!

3) darlene - Shadow, Koby, Jayla, and Dontae

Thank you to the three above! More slots will open up as soon as I'm done with Darlene's order. Future slots will require shipping... but... the funds from every order from this forum will go directly to a local ferret shelter!
More can be seen at
www.furaffinity.net/user/shiftyferret/
!