Post by katt on Dec 11, 2011 3:18:09 GMT -5
****Helpful information about Deslorelim Implants! I bolded the most important parts for anyone wanting to skim this as a reference****
Guess who got their Delorelin implant today?!?!?! KODA!!!!

We FINALLY did it! It's been a year in the making and all thanks go out to everyone on this forum for helping us on the way, but especially to Miamyferret for helping me get my hands on an implant. It was much needed and a HUGE relief that it's finally done!
Here is the full story for anyone who is newer. Koda is a 2 year old ferret who started showing signs of adrenal disease at just over 1 y/o. The symptoms he was showing were primarily sexual aggression (excessive mounting, abnormally aggressive/dominant playing, etc) towards my other ferret Kenai, but also included extra itching, and weight loss coupled with bad flare ups of IBD. We had been fighting IBD since his blockage surgery, which seems to have unmasked it. (Talking with the vet today I have to agree with her that his chewing habits probably indicated pre-existing IBD that rather than being caused by the tissue damage from the surgery was just unmasked by the stress of the procedure, and then compounded by the IBD that showed up later). Anyways, we started Koda on Lupron and he responded beautifully. He gained a lot of weight, was less itchy, and the aggression disappeared. After not too long, we finally got his IBD under control as well. It took 2 Lupron injections before the symptoms calmed down though - about 6 weeks to go away, but we noticed a difference after 4 weeks (each Lupron shot was a 1 month injection). I started researching Des and was put on the wait list as it was on back order. After months of waiting, I was told that the clinic I was going to, a VCA clinic, could not order the implant because it is not officially FDA approved for use in ferrets yet, and they are a corporate clinic therefore they must follow corporate rules.
At this point I had "dropped the ball" on the Lupron so to speak. The injection had doubled in price, I was late, and time flew by. Before I knew it it had been 2, then 3, maybe 4 months since the last injection. And Koda was showing ZERO symptoms. I thought hmm well maybe he was just in season, or had a botched neuter with some residual testicular tissue left or something. He was showing ALL signs of being 1000% healthy, IBD still under control, fatter and fluffier than he'd ever been in his life, and fully active with no aggression. I decided to hold off on any more Lupron, but continued to pursue the implant. At the very least I wanted it as a preventative. Well, sure enough the symptoms returned with a vengeance. Koda became more sexually aggressive than before to the point where we had to completely separate even play times for several weeks at a time to give poor Kenai a break. The aggression seemed to come in waves, so I could have them together for a little while, but then I would have to separate them again for a few weeks. Even play times, which had not been an issue before so much as being in the cage together. Koda's IBD started to flare up again (though not as bad) and despite already being in his full winter coat he began to shed. He did not show signs of visible hair loss, but it is Not normal for him to shed once he has his full seasonal coat - and he's had his winter coat for a while, but it's nowhere near spring change yet either. He also began to groom us (giving kisses) a bit more than usual. He's a lovey boy, but has been even more lovey than usual. So more symptoms than before, and stronger symptoms than before. Uh-oh.
I finally managed to get my hands on an implant with the help of the lovely and wonderful Miamyferret. I called around and found a vet who agreed to do the implant. The implant arrived and that vet went on vacation for a month. My usual vet could not do it because of corporate rules, even though I had the implant already. Around this time I began to work at another vet clinic and started talking to the vets there. None of them were comfortable doing the implant without anesthesia, which I was not super comfortable with especially considering Koda has already had one major surgery and anesthesia is hard on the little guys. The exotics vet in the clinic agreed to do the implant, IF Koda tested positive on the
Tennessee Panel (adrenal panel blood test). I talked this over with my original vet who is the most familiar with Koda hand his history. She explained that the test requires a large volume of blood, and that it must be kept frozen. If shipping is delayed, if the blood thaws, of there isn't enough sample, the test will be messed up. Also, even if all else goes correctly, there is still the chance of a false negative. She does not recommend the test as it's spendy (even with employee discount it would still be about $200+), and does not have a 100% accuracy.
This went right along with what I had read in my own personal research, so I began to hunt elsewhere. Around this time, I got a call from the original clinic to tell me that a local vet was beginning to order in the implant to use preventatively and as treatment. I called them, but they again would only do it with anesthesia, and would require new blood work (not the Tenn panel but still an expensive endocrine panel) despite having a relatively recent blood panel on file, and of course it is the law here that to provide any vet services the clinic must have a current exam, done in-house on file. We were looking at a few hundred dollars already, in addition to what I'd already paid for the implant. Okay, keep it as a back up and keep researching. I spoke with a friend who suggested a vet in Eagle River (about 30 min out of town) who works with exotics. I called her, faxed Koda's record, and got the ball rolling. She agreed to do the implant without anesthesia, to use the implant that I had already, and without any testing other than current blood work, which we already had (she did not require new blood work done in house). Unfortunately, she was going to be gone on my day off so she passed the info along to the other vet who agreed to do it also! Yaaaay! We made the appointment.
Fast forward to today. I drove Koda in and they did the exam. The vet was very friendly and open to learning from owners, something I have noticed many vets around here (though I respect them very much and know they are knowledgeable) are lacking. Too many vets just don't think that an owner can be knowledgeable and have done enough in-depth research to really know stuff. She fully stated that she loves learning from patients because they have the time to research very deeply on a specific focus, which vets simply can't do for every single species they treat. The deslorelin implant is very new and she was eager to hear what I had pulled up in my research and wants to be kept updated on how it works. This is her first implant, but their clinic does a lot of
Ferretonin (melatonin) implants, and microchip implants, both of which are the same exact implanting procedure, and almost (if not exactly) the same needle size.
She was very friendly and I was very pleased with her work with Koda.
The implant package looked like this:
As you can see, it says one implant pre loaded in one implanter. We opened the package and found the "implanter."
(for size)
Upon looking at it, we discovered that
the package contained on preloaded NEEDLE with NO syringe to push the implante out of the needle!
She pulled out the box of AVID microchip implanters to show me what the full implanter looks like.
When a vet orders Deslorelin, the box comes with X number of implants loaded in the needles, but only ONE syringe.
(hence the surprise of some vets when I mentioned I had an implant with an implanter lol). We decided to try the AVID syringe and see if it fit. To do this you unscrew the white cap on the needle (see first picture) and screw the syringe on. The plunger fit into the needle, but we were afraid it would not be long enough to push the entire implant out. The vet said we could try, or she could ask around VIN and see if anyone knew exactly what size syringe would be needed and get that and do it another day. I was NOT leaving without an implant in Koda - at this point I would try anything. So I said go ahead and give it a shot. We had measured the syringe and knew it would at the worst be very close to going all the way, and I figured that we could squeeze the last part out of the needle by placing a finger on the end as we pulled the needle out, or pushing the remaining tip of the implant in with a finger after removing the needle. (This is hard to describe without pictures and I don't have any that would show what I mean lol sorry). Anyways, we were going for it. Lucky us!
The AVID microchip syringe is the PERFECT size for the Deslorelin implant needle!!!!
You can't see it very well, but the white thing is the implant. It is slightly waxy in texture (we discovered this pushing it back in with a sterile needle, this pic is from when we were making sure the AVID plunger would fit).
After we pulled the needle out this is what it looked like:
Because Koda is not current on rabies, we muzzled him just to be safe. I didn't want to deal with risk of quarantine if he bit someone. He is a good boy but I wasn't sure how he'd respond to being poked by a needle. This was the best picture I could get of the muzzle, sorry. I hadn't eaten breakfast other than a coffee and there was a lot going on so I only had a second to snap a quick photo and my hands were shaky from caffeine.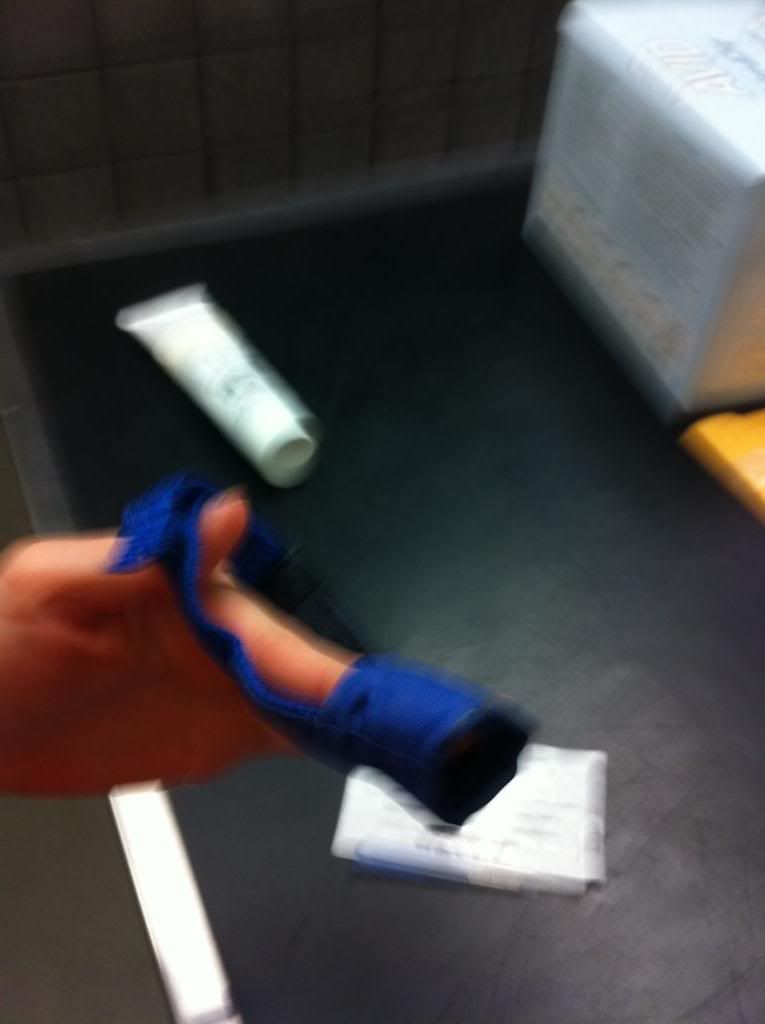 It was a tiny little thing and one of the most hilarious things I have ever seen. My poor little Koda Bear. ;D Anyways,
I held him in a scruff and held the muzzle in place with one hand, and held a stick lathered in FerretVite in the other to distract him.
His tongue shot in an out of the muzzle like a little hummingbird. It was one of the funniest things I have seen in a long time. ;D The vet then did the implant.
Koda flinched a little when the needle went in, but otherwise was very calm. It was in, out, and done before any of us knew it. The second it was over, he had completely forgotten anything had happened. He was way more traumatized by the anal thermometer than he was by the implant!

The vet tried to super glue the needle opening, but we could not find it! The wound closed behind the needle very well, and you could quite easily feel the implant firmly lodged under his skin. It felt pretty secure, there was no blood, he didn't seem bothered by it, and there was no visible wound left, so we went without the glue.
She told me not to put his harness on for the day and for a day or two if we use it to be careful how we placed it. I decided better safe than sorry and so Koda will not be harnessed for a few days. I let him stay in the kennel for a while for quiet time afterwards, and he will be kept separate from Kenai for a few days. Partly to keep him quiet to be 100% sure the implant stays in, and partly because
we are expecting a slight hormone surge while his endocrine system adjusts to the implant, which could make the sexual aggression worsen temporarily.
I will keep everyone posted on his progress. I also hope to bring Kenai in to get a preventative implant done if I can get another implant as well!
Here are some pictures of the needle for size reference.
It is a very large needle. The implant goes from a little past the base of the hollow part, down to the little dimple you can see in the needle. The entire metal part goes under the skin, and the plunger is used to push the implant out. Then the needle is removed. It is very big, but very sharp. A quick easy process. I can't imagine anesthetizing for such a simple jab!