Post by Deleted on Mar 9, 2012 21:06:36 GMT -5
Name
: Marissa
HF Forum Username:
Konotashi
1. Where did you first learn about natural diets for ferrets?
Not sure where I first heard of it, but I want to say Ferrets for Dummies.
2. Please describe the type of diet you would like assistance in switching your ferret(s) to. Be sure to include if you are interested in feeding whole prey (live or frozen-thawed) and if you are wanting to FULLY switch to a natural diet or PARTIALLY. If you are unsure what kind of diet you want to put your ferrets on, please express that and we can help you find the best type of natural diet for your ferret.
Whole prey - live, fresh killed, or f/t. Fully natural diet.
3. Why are you interested in switching your ferrets to a natural diet?
Healthier alternative to kibble.
4. Do you understand that switching your ferret to a natural diet can be a lengthy, arduous process? Its not an overnight switch. It can be a commitment of several weeks or even months. Your HF Mentor will be more then happy to assist you in switching your ferret(s) to a natural diet, but you need to be equally as commited. If you aren't willing to tough out a potentially lengthy switching process, or if you have major life changes approaching (baby on the way, moving, starting school, getting married/divorced, etc) then it might be a better idea to wait on switching your ferret's diet until you have more time. Are you willing to make the commitment?
Absolutely! I've done it once before and I'm ready to do it again.
5. How many ferrets do you currently have? What are their names? Ages? Genders? Do they have any health problems? Are they overweight? Underweight? How long have you had each ferret for?
Two ferrets.
Alice - Female, 2 years old. I wouldn't say she's underweight, but she could probably use some extra meat on her bones. I've had her for almost 9 months.
Cooper - Male, 9 weeks old. Would say he's the perfect weight for his age, but obviously needs some room to grow. I've had him for a week.
No known health problems in either.
6. What diet do you currently feed your ferrets? (Please include all treats, supplements, etc)
They currently have Merrick's Before Grain cat kibble (chicken) available at all times. Alice eats N-bones, both get some FerreTone daily and one fish oil capsule daily.
7. Have you ever tried to switch your ferrets to a natural diet in the past? If yes, what happened?
Yes, switched back to kibble for financial reasons. I feel that feeding whole prey will be cheaper for me, and now also have more money to spare.
8. What additional information about yourself or your ferrets would you like to share?
They're my babies and I want the best for them. I was raised around snakes, so I have no problem killing live prey or handling the prey.
9. How often during the week do you have access to a computer?
Pretty much any time I'm not at work, so I can usually reply within 24 hours or less.
10. Please post a picture of each of your ferrets (if possible).
Alice: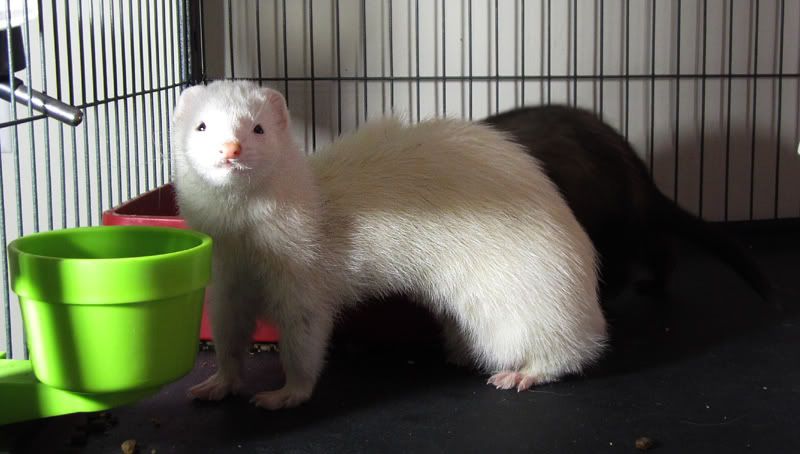 Cooper: