Post by shayla on Dec 14, 2018 20:20:17 GMT -5
Hello everyone! Some of you already know small details about my newest addition but I have more to add and a follow up question on whether anyone knows what could be wrong with him.
I adopted a young male late August, he was born in June. I noticed immediately that Eden had a severe limp in his left back leg and booked him a day visit with the vet to do full examinations. The vet took multiple X-rays of Edens spine and legs as well as put him on some antibiotics. The vet made sure to take a ton of pictures with the X-ray but there was nothing visibly wrong with him. The reason the vet also put him on antibiotics was because about a week after adoption he had a random 8 hour episode diarrhea and blood. I assume roughly 8 hours because some of it was really dry when I woke up and went to take him out, but there was also a really fresh bloody one. He never had another episode of the bloody poops aside from that night, though.
The vet told me to wait until he was fully grown and then to take him back for more X-rays once the "growth caps" had closed, so that's what I've been waiting on.
She did say it should be fine to monitor his playtime with my other ferrets that he gets along with so I have been doing that as of the last few weeks.
The reason I post this message tonight is because I went in to take him for a short walk outside and noticed in his litter pan that he had one big soggy, bloody poop; looking exactly as it did during his 8 hour period of having them (I will attach an image).
I picked him up and let him walk around to take a look at him, he's acting completely normal. Limp and all. FYI: the Vet at this point is assuming his limp is a deformity that he will have with him for life but we are doing the X-Rays at 9 months old to make sure.
Do you guys have any idea why he had this bloody stool? Or what the episode could have been 4 months ago?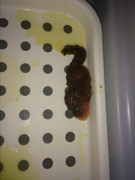 Thank you in advance for all your time and assistance!