Post by tmiller1295 on Nov 17, 2016 19:35:31 GMT -5
Application:
Name: Taylor Miller
HF Forum Username: tmiller1295
Please confirm that you are 18 years of age or older:
DOB: 1/12/1995
1. Where did you first learn about natural diets for ferrets?
I learned about natural diets here on this forum
2. Please describe the type of diet you would like assistance in switching your ferret(s) to. Be sure to include if you are interested in feeding whole prey (live or frozen-thawed) and if you are wanting to FULLY switch to a natural diet or PARTIALLY. If you are unsure what kind of diet you want to put your ferrets on, please express that and we can help you find the best type of natural diet for your ferret.
I would like to give some whole prey but mostly a frankenprey diet.
3. Why are you interested in switching your ferrets to a natural diet?
I would like to switch them because I know it is so much better for their health.
4. Do you understand that switching your ferret to a natural diet can be a lengthy, arduous process? Its not an overnight switch. It requires a commitment of several months at minimum. Your HF Mentor will be more then happy to assist you in switching your ferret(s) to a natural diet, but you need to be equally as committed. The switch takes time and effort every single day. It can also be extremely frustrating at times. If you aren't willing to tough out a potentially lengthy switching process, you have major life changes approaching (baby on the way, moving, starting school, getting married/divorced, etc), or limited time due to work, then it might be a better idea to wait on switching your ferret's diet until you have more time. Are you willing and realistically able to make the neccessary time commitment?
Yes I am fully aware of the time and commitment it takes to switch them to a raw diet. This is why I have thought of it before and waited until I knew for sure I was ready.
5. How many ferrets do you currently have? What are their names? Ages? Genders? Do they have any health problems? Are they overweight? Underweight? How long have you had each ferret for?
I have 3 ferrets. Roscoe: Male about 2-3 years old I got him and Daisy at the same time around July of this year. Roscoe has hair loss. He's 2.6 pounds
Daisy:Female about 2-3 years old got her with Roscoe. She's under two pounds but the vet said she is just small. She has some hair loss on her belly and the vet said she has a lump on her spleen.
** I got Daisy and Roscoe in the summer of this year from some lady. So I do not know 100% of their health but have take them to the vet after I got them. Roscoe was sick a couple of months ago and got blood work done and everything was fine with that.
Oscar: Male he was born in June of this year I got him at a pet store in September he is perfectly healthy and bigger than Daisy and Roscoe.
6. What diet do you currently feed your ferrets? (Please include all treats, supplements, etc) Do they already eat some form of soup?
They eat whole earth farms kibble. I started them on soup 11/16/16 which was last night. They had soup last night then kibble overnight and then I gave them more soup tonight 11/17.
7. Have you ever tried to switch your ferrets to a natural diet in the past? If yes, what happened?
No
8. What additional information about yourself or your ferrets would you like to share?
Nothing really besides I can't wait to see how switching them to raw makes them healthier!!
9. How often during the week do you have access to a computer?
Everyday.
10. Please post a picture of each of your ferrets (if possible).
Will post at the bottom
11. Do you have a scale sufficient to measure soup ingredients AND to regularly weigh your ferrets?
Yes I bought a kitchen scale last night.
12. Have you met the requirements for this program? Are you at least 18 years of age? Do you have your scale, a place to access meats, hearts, livers, etc?
Yes I have a scale I'm 18 and I have many stores around me where I found hearts and liver. If anything there is a butcher around the area.
Daisy
Roscoe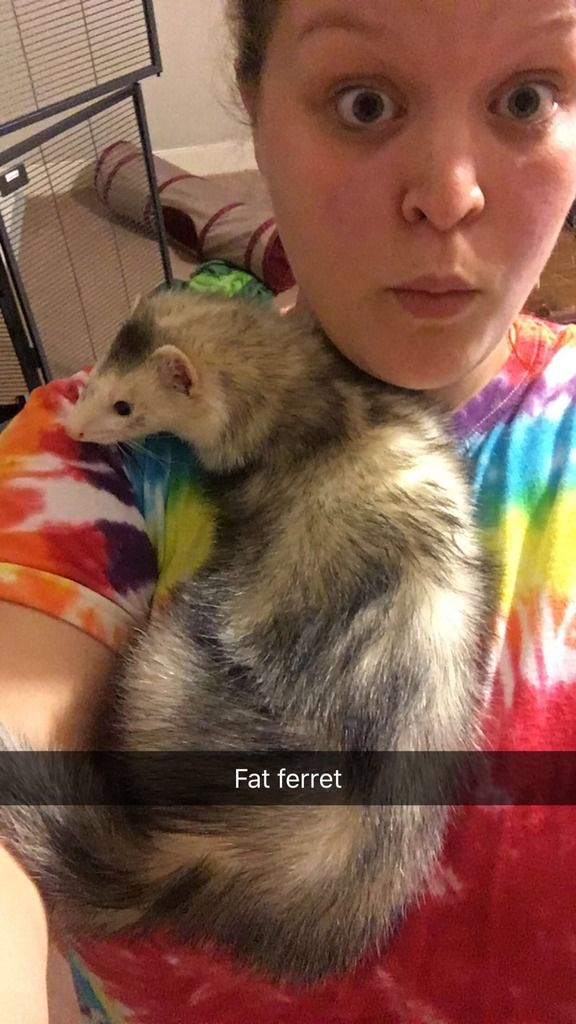 Don't mind me haha. This is the best body pic I have of Oscar.
Can't wait to keep going and continue with the switch !! Thank you for taking your time to read this and hopefully assign me a mentor
TRANSITION THREAD:
holisticferret60.proboards.com/thread/22011/switching-ferrets