Post by Heather on Oct 12, 2015 1:16:06 GMT -5
Name: Holly
HF Forum Username: Patchmomma
Please confirm that you are 18 years of age or older: yes
1. Where did you first learn about natural diets for ferrets? Ferrets FB group
2. Please describe the type of diet you would like assistance in switching your ferret(s) to. Be sure to include if you are interested in feeding whole prey (live or frozen-thawed) and if you are wanting to FULLY switch to a natural diet or PARTIALLY. If you are unsure what kind of diet you want to put your ferrets on, please express that and we can help you find the best type of natural diet for your ferret.
I'd like to get River and Simon on a raw diet, no cheats. I'm interested in whole prey feeding but not ready for that quite yet.
3. Why are you interested in switching your ferrets to a natural diet?
It's the most natural thing for them. I want them to be as healthy and happy as possible.
4. Do you understand that switching your ferret to a natural diet can be a lengthy, arduous process? Its not an overnight switch. It requires a commitment of several months at minimum. Your HF Mentor will be more then happy to assist you in switching your ferret(s) to a natural diet, but you need to be equally as committed. The switch takes time and effort every single day. It can also be extremely frustrating at times. If you aren't willing to tough out a potentially lengthy switching process, you have major life changes approaching (baby on the way, moving, starting school, getting married/divorced, etc), or limited time due to work, then it might be a better idea to wait on switching your ferret's diet until you have more time. Are you willing and realistically able to make the neccessary time commitment?
Yes. My life is pretty stable. I'm a stay-at-homesteading mother, schooling my 9yo and will be living where I am with my husband until I'm put in the ground. LOL
5. How many ferrets do you currently have? What are their names? Ages? Genders? Do they have any health problems? Are they overweight? Underweight? How long have you had each ferret for?
I have one 8 month old female ferret. I just got her 3 days ago. Her previous owners had her for one week and she came from a Petsmart before that, they said. The previous owners had her on a grain free kibble with junky treats.
She did come with fleas but that's been taken care of and she's a happy, healthy girl right now.
I got Simon on September 28, 2015 from a family that didn't have time for him. He's a 2yo male, no health problems.
6. What diet do you currently feed your ferrets? (Please include all treats, supplements, etc) Do they already eat some form of soup?
I started her on a thick version of soup and so far that's all she's had. I've offered bone in meat (chicken wing and neck) but she's not interested yet.
Simon is eating a thick soup with small chunks of chicken added on his first morning here.
7. Have you ever tried to switch your ferrets to a natural diet in the past? If yes, what happened?
It's all new to me.
8. What additional information about yourself or your ferrets would you like to share?
Just that I'm totally in love with my new fuzzbutts and looking forward to all of us learning and bonding and having many many fantastic years together.
9. How often during the week do you have access to a computer?
Daily. Most time available during the days M-F.
10. Please post a picture of each of your ferrets (if possible).
11. Have you met the requirements for this program? Are you at least 18 years of age? Do you have your scale, a place to access meats, hearts, livers, etc?
Yes. I have a scale and will figure out how to get her weighed on there soon. LOL We raise our own poultry and buy from local grass fed beef and pork farms. Supermarkets in our area are good about carrying the variety we'll need if it comes to that.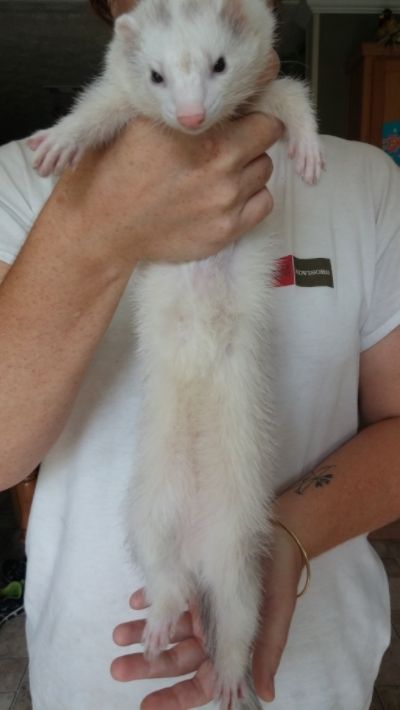 Hi and welcome to the mentoring program

. In a little while your mentor (Desiree) will introduce herself and you can get started on a new adventure in natural ferret care and diets. Please remember to post regularly (daily or as per arranged with your mentor) so that your mentor can assist you move along safely in this adventure. If you experience computer difficulties or are going to be away, please notify your mentor and most of all relax and have fun

. Your mentor is here to help you on this journey.
ciao