Post by Heather on May 24, 2014 21:50:46 GMT -5
I've been sitting here and trying to decide how to write this. I do not want to make this sound that this was something that just happened or that it's a trivial adventure. Initially, this process was just research into having intact ferrets as a housepet, not about breeding at all. It was only research to help what we were seeing as an increase of intact ferrets becoming pets and having a more international flavour happening on the forum as well. We were no longer just dealing with the issues around the farm ferrets but the accompanying issues involved with intact ferrets. This brought to the forum a whole new set of questions, issues and problems. When this forum was originally created it had been all about diet. It then expanded to include holistic health and medical issues. We were relying heavily on one or two breeders who were only on board on the rarest occasions and would disappear for many months at a time. We could not get information in a timely fashion to members who ran into trouble with intact ferrets....so I started pestering for information. Somewhere in my research, my desire to have strong healthy ferrets became more than just a dream. I've done rescue for years. Several years ago, I had a particularly bad winter, loosing 8 ferrets within weeks of each other, it almost destroyed me. Somewhere deep in my heart I wanted to have a healthy ferret. Now don't get me wrong...ferrets are ferrets and whether you have breeder or farm you're still dealing with a creature that is prone to so many health issues. I just dreamed of maybe being able to stack the deck in my favour for a change. Research, breeders....well then my research became more personal and evolved into being mentored, where you work closely with a breeder or breeders to learn even more and to possibly open another world.... the one of breeder. Considering the general health of the ferret attempting to breed without being mentored or working closely with breeders with years of experience under their belts is the height of folly. I researched and was mentored for over 2 yrs before even getting my ferrets. Last year, when it should have been my first crack at breeding I took the cowards way out. A friend lost her litter and her beautiful jill to a bad birthing experience. I was supposed to put my jill to hob, but couldn't bear the thought of loosing her. She was more important to me than any litter she could produce. I took another year to do more research, talk to more people. I needed to be sure that nothing would go wrong. There are no guarantees, I know that and many are going to say why be so stupid it's a risk, life is a risk....but I wasn't ready to take that risk.
I have introduced a couple of ferrets to the forum when I imported a couple of polecat x ferrets a couple of years ago from the UK.
This is Tico. He was my introduction to UK poleys. He was my first poley hob and was to be my base.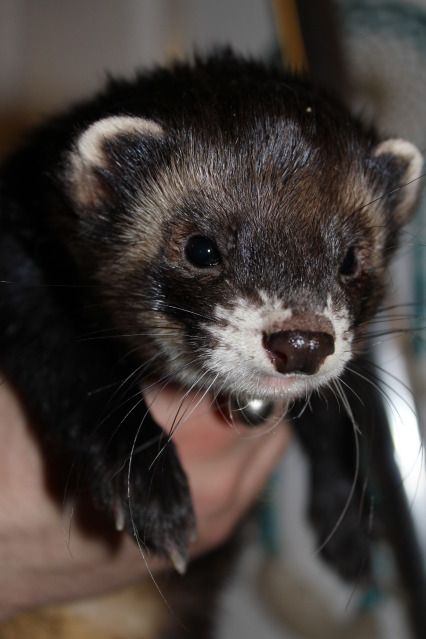 He likes to think of himself as man of the world but really he's just a soft, snuggly teddy bear and a bit of a clown. He is so very gentle and sweet. That doesn't mean he doesn't have attitude. He is what he is.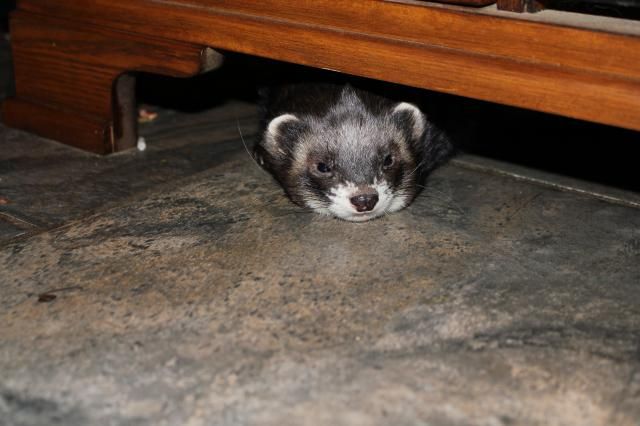 ciao