Post by Thérèse on Feb 26, 2016 8:14:07 GMT -5
Because I am insane, when I had a prepaid c/c that I had been given as a gift that was due to expire, I went online and got another carrier. I have used it once so far, when we went and got Santa pix done and, as usual, went and sat by the river and relaxed afterwards. I haven't just taken pix of it on it's own like I did with the others but have got the pix from when we went down the river and will upload a selection from those.
This carrier came in 3 different sizes but because of the way I wanted to use it I chose the small one. It can be used in 3 ways. 1. it can be carried like a suitcase/bag by a handle it has on top. 2. it can be carried as a shoulder bag with the clip on shoulder strap. 3. it can be used as a backpack with the clip on backpack straps. I bought it because I wanted another frontpack, like the Marshalls one I have but in a different design, one a little less bulky for a start. So I was planning on using it with the backpack straps but wearing it round the front, consequently anything longer than my shoulder width would just sag or stick out. The large was definitely too big. The size difference between the small and medium was only really in length (the width and height were maybe a cm different). The medium was 9cm longer than the small. If it had been about 5cm only I would have got the medium but 9cm longer was too much. When I received it, I found the straps supplied for using it as backpack were too short for how I wanted to wear it. It made it up very high (they did adjust but not much). I just bought a couple of cheap shoulder bags with longer straps that were click on too and swapped the straps with the ones I had received (the shoulder bags I filled with colouring books and textas and pencils and put them under the Xmas giving tree for kids).
Anyway it worked well and here are some pix from when I used it.
First one is a shot of the boys inside (with a blankie too)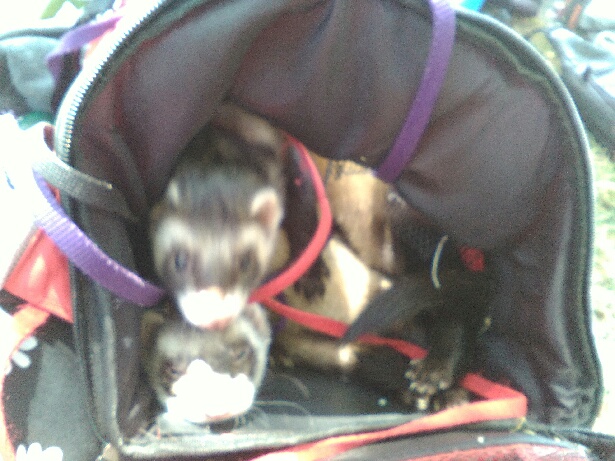 and the rest are just me and Jelly in varying stances with the boys all in the carrier.