Post by Sherry on Jan 22, 2011 16:43:51 GMT -5
Written by Guiliana:
What is a remote litter box?
A remote litter box is a tub that is attached (via tube/tunnel) to your ferret's cage. You place their litter box into the tub and the tub becomes a "bathroom" for them.
Why make a remote litter box?
A remote litter box can help some ferrets be more dilligent about their potty habits in-cage. It provides a more natural bathroom for your ferret. It is in essence an "latrine" room. It also makes cleaning the litter box ALOT easier, it keeps the litterbox (and the litter debris) off of your ferret's clean bedding/blankets and away from their food. It cuts down on smell, and it provides more space in your ferret's cage.
Does it cost alot to make a remote litterbox?
Not at all, it costs about $30 if you find all the right parts for cheap.
What does a remote litter box look like?
Here are some pics of my old superpet cage and its accompanying litter box (the ferrets in the cage are my original business of ferrets: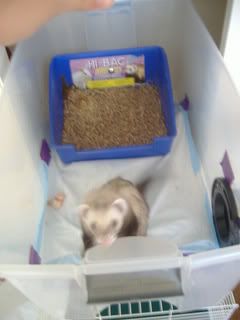 Do they really use that box?
Yes, my ferrets always used the remote litter box. They had horrible potty habits before and would pee/poop on the various levels of their superpet cage. After adding the remote litter box I did not have one problem with accidents.
Where can I get directions?
***Edited to add...the directions listed below are no longer available, but the connections in "tube and tunnel system" are the same, so am linking that instead. These connections will be the same at both ends, in the remote box and in the cage
holisticferret60.proboards.com/thread/7239/tunnel-cage-system
wrongcrowd.com/gallery/litterbox
But you can always modify the directions or just use the directions as a base concept and make your own design for the litter box (Like I did, and like Jaycee did below).
How do I attached a remote litterbox to my cage?
If you have a ferret nation, midwest, marshall, mansion, martins cage, etc you will need to use a dremmel to cut a hole in the bars of your cage. You can either use a toilet flange (like I did) or you can use a blast gate (like the author of the remote litter box directions did). The benefits of the blast gate are that if you decide you no longer want the remote litter box, you can slide the blast gate shut and keep your fuzzies from escaping the cage.
If you have a superpet cage, there are often smaller sized doors on the side of the cage. Simple open the door, attach the flange, and you are set. No cage cutting required.