Post by Heather on Mar 27, 2011 0:35:24 GMT -5
Death, the cessation of life upon this plain. Dealing with it is difficult and extremely painful but something we all have to face and know and understand this as a fact of life. Death is necessary to have life. When a ferret dies he leaves behind friends that he has made in life. Human and ferret alike. We humans learn to deal with this passage. We miss our little fuzzy friend, we mourn, we cope. We discuss this pain with friends, we create ceremony or burial spaces. We have developed coping skills. If we want to we can study grief, its parts studied and dissected and analysed. Unfortunately, we are not alone in our mourning or grief. Our little fuzzbutts mourn for their friends who have passed on. They form deep attachments, far deeper than many of us ever imagine. There is no rhyme or reason behind their friendships, like ourselves, their choice of friends often lacks reason. They learn to share friendships with those often chosen by us. An old ferret can bond with a younger, active with injured, smart with dull....their friendships can happen over years of shared experiences or within just days. Anyone, who has had more than one ferret who shares space with another ferret will know of the depth of the friendships formed during their time together.
I'm going to talk with you now, not of friendship's found but of friendships lost and the impact that death on the life and even possible survival of your remaining ferret . We're going to discuss the symptoms, possible ramifications and of how possibly to ease and help your little one to move on the path of healing. Heal? Why? Because, if you're not careful, if that friendship is deep, you will loose not one furfriend but two. It is not uncommon for a ferret to attempt follow their friend across the bridge. The depth of their despair can be so overwhelming it physically makes them ill and so possibly die. I'm going to try and share with you methods that might help you to make sure that your little one doesn't give up on life and follow their friend. Unfortunately, I doubt that you will find any proof, or any studies that tells you how to protect your little one from such dark depression or how to treat it. No, there is no simple solution, no magnificent bit of science that tells you to do this or do that so that you can prevent further psychological damage to your remaining little furfriend. I am going to tell you what I've done or do to help my little ones get over the loss of their friends. Many of the symptoms that you will see are the same as the hated "shelter shock".
The death of a friend.
I've discovered upon the death of a fuzz, do not immediately wrap up your little furfriend and bury the body. Most of us opt for a quick burial, it helps us. If you've had to offer the gift of release and are at the vet's do not leave this little one there for cremation or burial. If a post-mortem is done ask that the little one be returned to you. This is not a morbid practice, consider it a ferret funerary practice, a viewing, a method of closure. I usually use a skinchild's receiving blanket, they work best for this. They will comfortably wrap all but the largest of hobs and they're not expensive. I consider it my little one's shroud. If I'm at the vet's then I curl up my little one, as if sleeping and then wrap up my precious little package for his/her journey back home. Once at home, I then unwrap my little one and place it in the center of the ferret room on his/her blanket on the floor. Every ferret that is in my home, friend and foe alike is then allowed the privilege to say goodbye. I have never had a ferret desecrate or attempt to harm the dead fuzz. I have seen gentle grooming, ear washing, pawing, nudging even had a ferret lay down with his dead friend. I allow this to proceed for a few hours or until all ferrets have moved away and are no longer paying any attention to the passed ferret. I do not rush this procedure, nor do I necessarily hover around. The furfriend will often return a number of times to sniff, nudge or perform ear cleaning. Allow this, it helps them, it's their way of dealing with their grief. When everyone is finished with their goodbyes, I then, wrap up their friend and bury him/her. You can then take the ferret to the vet for cremation if that's what you wish. This particular method has saved me hours of heartache. Since doing this particular practice, I've not had any go as deeply into the dark depression that can claim them.
Bach Flower Remedies. RR (rescue remedy) should be part of your ferret first aid kit. At this time, when you allow your ferret to view and say his/her goodbyes to their friend, dab a drop of RR, on an ear, nose tip, even the bottom of one's little one's feet. On the bottle should be the amount that can be added to water (this does vary from one mfg to the next, so check, it can vary between 5 drops to 10 drops depending on the dilution) add this amount to their drinking water. There is no overdose, just waste if too much is added. This is an anti-stress solution, made to deal with the immediate stress of the loss. There are other Bach remedies that can be used later once certain aspects of the ferret's behaviour are noted. This method deals with the now, the immediate stress of the loss.
Ferrets are funny little creatures. They're filled with curiosity, adventure, boundless energy and high spirit. A ferret in mourning is like watching someone turn a light off. Their eyes are dull, they sleep more, are listless. They choose solitude. They stop playing, they stop investigating, but most of all they often stop eating and drinking. Some of these little ones will feel grief so intense that within 24 hrs you will truly believe that you have another ready for the grave. If, they can be enticed to play, some will show flashes of the impish personality that was there, but many will not and just move away to find another dark place to sleep. I have seen little ones in the darkest pits of despair. Little ones who are so wrapped up in their grief that you are lucky to get anything more than a sigh and a whimper from them. They are in great pain and anguish. They choose a dark corner of a cage, curl up, shivering in their grief and despair. These little ones need your help. They cannot see the light. These little ones are going to need you to intervene. They need you not only to hold them, to love them, they need you to deal with them on the physical level. They need you to try and entice them to eat and drink, to believe that there is indeed a tomorrow, because they don't believe there is ever going to be happiness in their lives again. If they will not eat or drink, you're going to have to resort to forcing the issue. Syringe feedings are not uncommon for a little one who is so wrapped up in their own sorrow. If you stay on top of it at this level, medical intervention and rehydration hopefully will not become an issue. Yes, it can get this dire. This is every bit as dangerous to your little one as shelter shock and like shelter shock, you will have to treat the symptoms as they appear. At this stage of the game your battle is on the physical level, as much as their battle in on the mental level. One of the biggest problems is often ferrants are so involved with their own grief, they fail to see that the little one who is living, who was left behind has given up on life (this is directed particularly to ones who have never suffered the loss of a little one before, believe me the pain is intense). One cannot even to begin to understand the depth of the loss that these little creatures create until one has felt it. Any who have suffered through this will understand that I do not state these words lightly or lay blame for not seeing the signs that your living ferret is in trouble while dealing within your own grief.
Replacement. You can try and find them a new friend. Some rescues/shelters even some petstores will allow you to bring in your little fuzz to see if he/she will choose another friend. Your little one should be recently ADV tested. Just going out and buying or adopting another may not necessarily bring success. I would suggest caution as just purchasing or adopting another ferret could actually increase the stress that your grieving fuzz is actually feeling. I have resorted to the choosing a new friend method a few times and found great success in it. I have never just brought in another ferret but always allowed the grieving ferret to choose. Sometimes, they don't find anyone that they want at that time. Return again if having another ferret is indeed what you wish and hopefully your little one will feel up to choosing this next time. I've also had ferrets who have decided that they don't want a new friend (which is why I'm telling you to let your little one choose). I'm not saying don't ever bring in another ferret. I'm just saying that there may need to be thought as to the timing of your next ferret or the consideration that "you" may want another ferret in the future. The realization must be there that the original fuzz may not want a new playmate and may not accept one. I've had a couple of fuzzes who decided that they would never again share their life with anyone except their ferrants. These ferrets then require special playtimes, housing and special time with their humans. I presently have 2 who have decided on the death of the playmates that no other will do and they've chosen solitude instead of partnerships. I've know 4 or 5 who have decided that they would sooner choose solitude than ever making a new friend. Some move around the business but associate with no one. Others, like Pooka and Yuri turn into cowering, screaming retches who make themselves physically ill whenever another ferret approaches them. Others, are like Nasty Ivan, who would tear any new ferret apart (he was a large PV ferret and would probably have killed another ferret if allowed to pursue the level of violence that he was on). Initially, his grief allowed other ferrets to move around him, he just did his own thing. One day, he decided that he didn't need anyone....and attacked. Sometimes, nothing not even time repairs all. These little ones will continue to play, live, share space with their cagemates but their whole personality has changed. It's one of those " I know that this is happening but I can't put my finger on this". My for instance was Lady "B" upon the sudden death of Attila. She grieved hard, almost to the point of having to intervene beyond the snuggling part but when that was done, she didn't return to her hard core self. The closest she's ever been to that personality that earned her, her name is now....she runs with two males (I've never been able to get her to share space with another female, she despises them) Odin and Thor. Odin is her partner in crime and Thor is her kicking post (poor wee lad).
I hope that this helps a few from finding the despair of not only loosing one but possibly loosing two fuzzes in a very short period of time.
ciao
I"m going to add to this.....you can continue to read or not. It is picture heavy and some may find it disturbing. Recently, I lost a wee fuzz, Yuri to cancer. He went into surgery on Dec 24th but it was decided that we could do nothing and euthenasia was the only humane option. Yuri had been living with a baby fuzz, Minion. Yuri has been Minion's friend and cage mate since Minion was rescued, about May of this year. Minion was given the opportunity to say goodbye to his friend and this is his journey in grief. I took these photos because I wanted people to understand the depth of grief and the pain that our wee ones go through.
Yuri is placed, still wrapped in the cage so that Minion can see that his friend has passed on. This stops Minion from searching for Yuri for days and weeks after. I found that this proceedure does allow them to grieve and move on.
Minion cries and calls out to his friend.
He then starts to groom his friend. He washes his face and grooms his ears
At one point he actually tries to get his friend to move and play.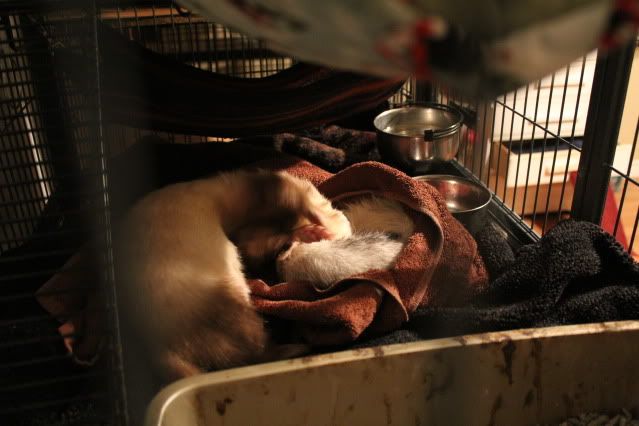 Finally, after about an hour, Minion lays down on top of his friend and whimpers
Finally, as though accepting the death of his best friend Minion gets up and proceeds to cover his friend with the towels that were wrapped around Yuri. He then moves on to a hammy and guards his friend for quite awhile. I went in a few hours later and he was no longer guarding his friends body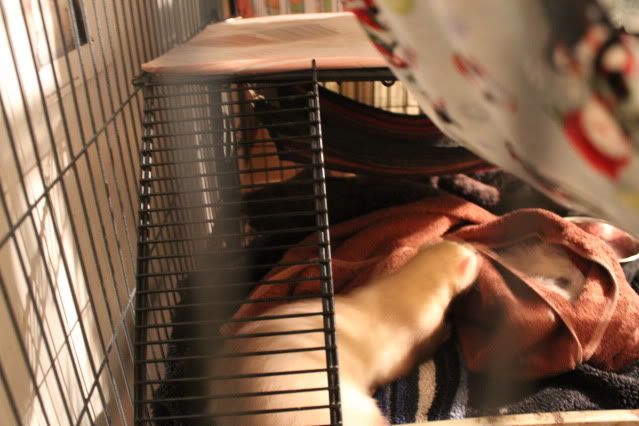 ciao