Post by Sherry on Jan 12, 2013 10:12:32 GMT -5
thewholisticvet.com/?p=217
The Truth Behind AVMA's Anti-Raw Food Policy?
Posted by Dr. Laurie Coger on September 16, 2012
The AVMA recently published another article on the debate over their anti-raw food policy. In the most recent Journal of the AVMA several veterinarians, including myself, expressed varying viewpoints on the policy. You can read the full article here.
What I find most interesting are the comments by Dr. David Chico, chair of the AVMA Council on Public Health and Regulatory Veterinary Medicine and NY State Agriculture and Markets Veterinarian. Dr. Chico states that the council began considering a raw food policy when the Delta Society, now called Pet Partners (a service/therapy animal group), asked if any policies existed against feeding pets raw foods. Dr. Chico states that this policy was developed without contact with pet food companies. But if the Delta Society/Pet Partners' question was the inspiration for the development of the policy, there is a bit more to the story.
What is not mentioned in the AVMA article is that the Chairwoman of the Board of Directors of Pet Partners is Brenda Bax, Marketing Director of Purina (see for yourself here). Back in 2010, when Pet Partners was the Delta Society, a policy was passed banning any service or therapy animal that consumed raw food from participating in their program. Prior to that, in 2008, Purina gave the Delta Society the largest donation it had ever received, in the form of a two year pledge. And just two years later, the ban of raw fed service and therapy animals was instituted. Hmm, does anyone else see a long term connection between Purina and the Delta Society/Pet Partners? And, although the AVMA Council may not have talked to any pet food industry people directly, how can anyone deny the influence of one of largest pet food companies in the chain of events leading to AVMA's anti-raw food policy?
So why, you may be wondering, am I spending so much time on this topic? Simply put, it's because I care about the health of animals. I have seen the improvements in animals when their diet was switched from processed commercial foods made from ingredients of unknown quality to a well planned diet compatible with their biology and consisting of fresh, fit for human consumption, ingredients.
Perhaps I shouldn't care so much, and shouldn't be writing this. Much of my paycheck, so to speak, comes from treating sick animals. Ear infections, skin problems, dental disease, vomiting and diarrhea all put money in the bank for me. Yet my own, raw fed dogs, over the course of 18 years, rarely or never suffered from these problems. It is not uncommon for me to see a dog at the hospital for ear infections three times a year. In all the years I have fed a natural diet, I have never done a dental cleaning on one of my own dogs. Yet many of my patients have multiple cleanings, beginning before they are six years old! At somewhere between $400 and $800, this is a big expense for my clients, and income for me. But I'll let you in on a secret — if I never had to treat another ear infection, or pull another infected tooth, I would be one happy veterinarian. If I could teach owners how to optimize health in their pets, instead of treating disease, I would be truly fulfilling the spirit of the Veterinarian's Oath I shared with you in the previous blog.
A friend and I often joke about the curse of knowledge. In short, the curse means that the person who is more knowledgeable about a subject has difficulty seeing the subject from a position of lesser knowledge. Or in short, once you know more, you can't go back. Once you know what commercial foods are made from? Well, you decide:
This?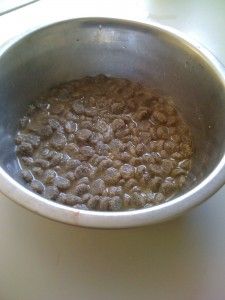 Kibble with water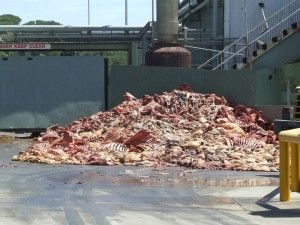 The type of meat that goes into commercial meat meal
Or this?
Turkey necks, fresh beef, egg, vegetables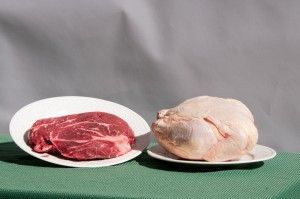 Meat that goes into a natural diet is fit for human consumption
.