Post by Guest on Aug 24, 2012 14:11:04 GMT -5
Thought I'd share some pictures of my furry household.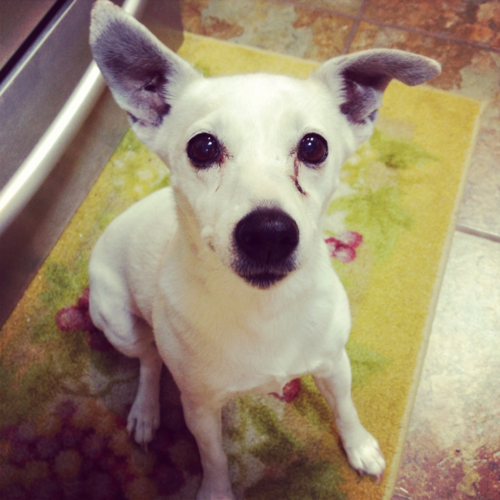 Missy is my 14 year old Jack Russell Terrier, who sadly will not be accompanying me in my move to North Carolina. My mom wants to keep her at the only home she knows, considering her age.
Raquel is a fox squirrel. She's actually not mine, but a
wild
squirrel and she's amazingly tame! She comes and knocks on the door when there's no sunflower seeds in the bird feeders for her to eat. And by "knock" I mean she literally scratches at the windows in our french doors & if that doesn't get our attention she body slams the door until we come outside. ;D
This is my late Norbert (aka Norbie). He was a devilish little guy; he could escape any barrier you built and anything you didn't want him to do...he was going to do! He was the evil genius of the group. He & Thor were attached at the hip and they often reminded me of the kids cartoon Pinky & The Brain. He loved a good scratch on the head and he always got this smug, disgruntled look on his face when you rubbed him down. That was his happy face haha, it pretty much summed up his personality for me.
Sorry for the water marks, these went on my tumblr so I didn't want people re-uploading them all over the internet, hehe.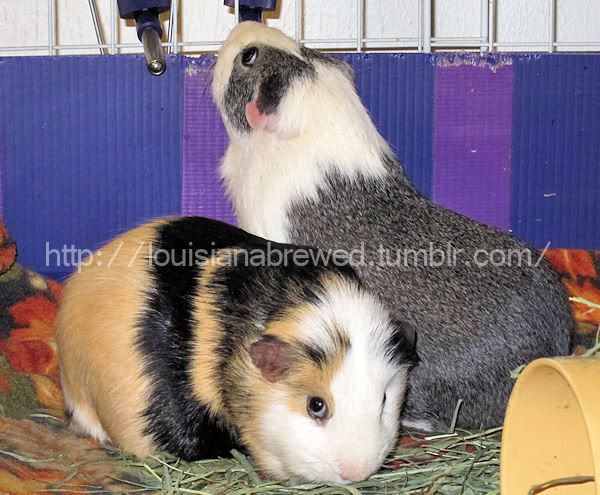 Here is Milo & Thor (in the back). Thor has a personality that is uniquely his...anti-social! He out weighs my other boys by over a pound, but has always been the most submissive. He clocks in at nearly 3.5 pounds, fyi. And God forbid you try and pet him or pick him up, he bolts away like a light! Five years with me & he's still about as skiddish as the day I got him haha. Ironically, for someone as shy he is, he has the
loudest
wheek of them all!
And Milo again, because he is forever lounging in a hammock!
He's my people pig; he loves being petted & talked to and will go absolutely crazy for you if you tidy the cage. He's pretty chatty and makes cute little chutting noises when he's running around. He has a freakish obsession with the water bottle.
So those are my babies!
Hopefully I will have some ferrets to show off soon!